As Long as it Looks Good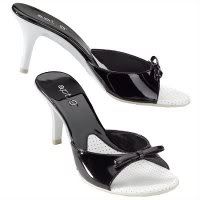 Normally I just turn to Kohls when I really desperatly need a bra and I'm broke. But we got their sales catalogue with the comics today and some of the shoes there are really adorable. And since it's almost Spring (one week to be exact) I thought I would find my favorite slides you can get from them.
These are a steal at $30.00 and come in light blue too. But the black is nice a classic and goes with everything. So, if you desperatly need shoes and have barely any money head on over to Kohls and buy these. Who could say no to these adorable shoes anyways?