You All Know I'm a Barefooted Hippie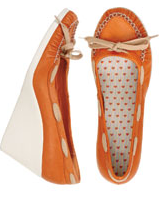 I just don't get these shoes. Yeah, they are fun novelty shoes and could work on some really cool chick at a Stray Cats concert but those aren't the kind of girls I see wearing these. Of course not. When I was in New York I saw a lady wearing a velour sweat suit and these shoes. Why? You probably haven't seen your daughter wear these. I've never seen any one under the age of 18 wearing them. It just bewilders me. I should like them. I mean, I think I like them but...they just are a little off. Wow. This really reminds me of a conversation I had with Benny. Except we were talking about a person. Actually I've had this conversation multiple times with different people about the same person. But I don't think you care.
Please, don't buy these shoes unless who feel like being a fashion victim for Halloween (you know, wedge+moccasin=this shoe).
Okay, honestly. I don't know why I keep on talking about shoes. I don't even wear shoes most of the time during the summer. I promise the next time I write it will not be about shoes.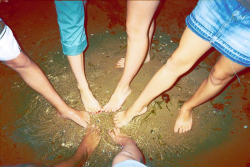 Thank's Carly