If You Want Blood...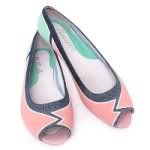 I've got school starting in 4 weeks which means I know have even more reason to obsess over my wardrobe, and of course the main thing I'm flipping out about is my shoes. Luckily I'll be going on a huge shopping trip on Thursday (no sales tax or something in D.C. all week!).
So, the main thing I'm looking for in the shoe department? Fabulous flats so that I can look good and still be able to walk to school. I would kill for some like these by...Killah. Yes that was absolutely horrible but I'm feeling depressed right now. They're 80's fabulous and would look perfect with some black jeans and a blue shirt (because only ugly girls wear pink, according to my father). Plus they are on sale for $47.50 from
ASOS
.