She Wore a Teeny Weeny, Yellow Poka Dot Bikini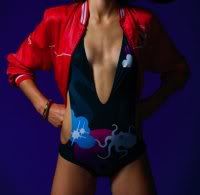 I actually didn't have to write that silly thesis, which is good because I didn't write it. I did have to write an essay on Niger, which luckily I did write. Plus I had to do a million other projects just because next week is Spring break. I can feel the love from my teachers.
Speaking of Spring break every one needs a new bathing suit while they are in Cancun (or sitting on the coach wishing they were in Cancun) and
JG4B
has some of the most fabulous, and most original, bathing suits. It's a fantastic blend of Jasper Goodall's graphic designs and Louise Middleton's bathing suits. So go to the website and stare at those fantastice bikinis, and if you really want to buy one.