Oooh La La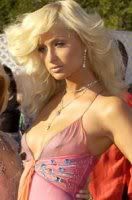 From
Oh No They Didn't!
:
PARIS OFFERED PROSTITUTE JOB
Socialite PARIS HILTON has been offered the chance to earn $52 million (GBP27.4 million)-a-year - as a high-class New York prostitute.
The idea comes from a psychiatric patient, who claims he's a former pimp.
The man, who calls himself PIMP JUICE, has written the offer to Paris via the NEW YORK DAILY NEWS.
I really hope this isn't an April Fool's joke, I mean this is just too good to have made up. Dude! He's a pyschiatric patient named
Pimp Juice.