In a Galaxy Far, Far Away-It's Hair Wars!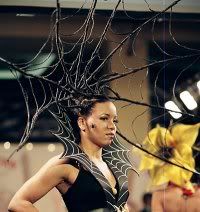 In Detriot there is a little contest (if that's what you'd call it) called
Hair Wars
. It's basically hair "entertainment" and amazingly enough Cher is not involved (you know she would love to rock this look). It's a show with whole costumes made out of hair. Imagine a vegas showgirl costume made entirely out of hair. Well, you don't have to imagine because you can read the
article
. And if you get that Life magazine there is a story about it in there.
The show is held in Detriot because it's the black hair capital (okay...) and Detriot has been featured in My Nappy Routs, a documentary. Really, I love this because I've always secretly wanted to be a hair stylist. Yes, the hair styles are ridiculous but they are so much fun to look at!