"I'm Healthy, I Got a Cootie Shot"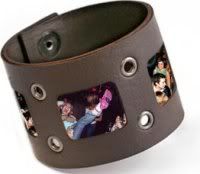 I went to check my e-mail just 10 minutes ago and I saw a lovely letter from a guy named Spencer. Unfortunately hotmail is messed up and put it in junk (they should understand that anything that has to do with clothes/accesories is not junk) but I read it (no shit) and it was about his new product line called
Smoy Photocuffs
. So of course I checked out the website and these are the coolest things ever. The one shown here is called Brooklyn and basically you get a cuff and there are slots that you can put fun pictures in. This type comes in two different sizes and is crazy groovy.
If I had it on the camping trip I'm going on Friday I would fill the slots with nice heeled shoes. And showers. Maybe even some mint chocolate chip icecream. My point is they are so cool I'm fantasizing about wearing them.