We'll all Float on Okay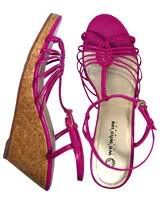 I walked into my kitchen about 2 hours ago to see my Mother's new, cherry red, platformed flip-flops. Yes. They sound cool but don't look cool on a 40 year-old woman with grey "streaks", especially since these look like those floaties flip-flops that were oh-so-cool when I was in 6th grade (and I laughed at all the girls who bought them because in a week they all popped). That's just not right.
But these are just so right. Trendy, but pretty and you can wear all the time (plus cork floats). And, these are one of the cheaper items I've featured on here (only $38). They are by We Who See and you can get them from
Uban Outfitters
. Seriously, it's a great deal (they cost less than the really cool purple Rocket Dog sneakers I got in 6th grade) so go buy them.
In other news, M.I.A. has the free download of the week on itunes. Very cool. Get it.