Because I Deserve a Little More
I haven't talked about clothes much lately and well, that's going to continue (okay, so the occasional sweatshirt or bag sale) with my Top 2 Lotions of all Time. They are: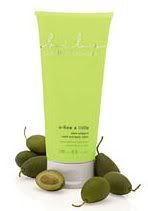 Bibo's O-live a Little olive whipped hand and body lotion
I absolutely love this lotion and use it every day. It's nice and light (and not greasy) but still makes your legs/whatever mosturized for hours. Plus it has a nice subtle scent that's not too olivey (because olives are gross). The website says that it's texture is so great because it is whipped. So then, why doesn't every lotion maker make it whipped? I don't know but they certainly should.
Tutti Dolci's Creme Brulee
It smells so good it makes me want to eat it. Get it from Bath and Body works but don't use the testers because they make it really nasty.