Red Hot, White Hot
Every one knows white is
the
colour (I'm not sure if that's really correct. I guess it's a colour) for sumer. Every should know that nothing is sexier then red lipstick with a white outfit. Take this for example: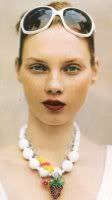 She is wearing Lancome Juicy Wear Ultra-Lasting Full Colour and Shine Lip Duo. Don't you just love it?
But, if that red is a little too...red for you try something a little more pink like they did at the Christian Lacriox show.

This looks especially good on paler girls (me, and the rest of the albino club) because it breaks up the white and the red really pops out. Well, it doesn't pop out that much if you've got the lippy on from the Christian Lacriox show. But we'll let that slide.