I want you all over me like L.A.M.B.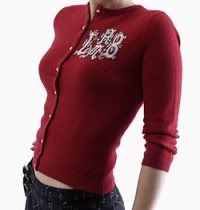 When it comes to Gwen Stefani you either love her or hate her. I for one
love
her. When I found out she was coming out with a line of clothes I flipped out. Unfortunatly it's all really expensive (shite!) however there are some clothes that I stare at every day, one of them is the cardigan I have featured in this post.
Cardigans are really great because they can make any outfit look classy (okay, not any, I'm sure Little Kim could whore-ify the cardigan) but it doesn't have to look preppy. This cardigan is really hard to make preppy (although I know the girl who could do it). Besides, you know you want LAMB right above your boob.