Do You Really Need a Reason?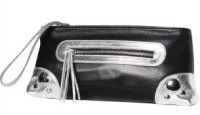 Aaah, bags. I love bags. Big bags, small bags, as long as I can fit my Hello Kitty hairbrush in it then I'm set (oh and all my lipgloss, my wallet, and cocoa butter). So, I'm always looking for a bag that's cute but big enough for it.
Screw that. This clutch is too cool to not buy. It's shiny! It's studded and...it's black (i.e. it matches half of my ward drobe because I'm turning into Catherine Zeta-Jones). Besides, wristlets are oh-so-handy for when you are at a party and can't put your purse down.
This purse is by
Liz Mole
and is $198.