Stein Mart, Baby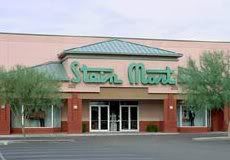 Yesturday I went into D.C. (you know, where our idiot president lives) and spent the whole day with my ex-model grandmother hearing stories about her visits to the Moulin Rouge (she went with her parents when she was 16, and her father got her a date with a French boy) and shopping at her latest love, Stein Mart.
When I first walked in I was...scared. It was like some retired golfer's wardrobe threw up all over the place. I did make a few nice discoveries though, an argyle shirt and a nice see through pink blouse. Then, when my mom was at the register paying I saw two fabulous dresses. They were by
BCBG
, one wrap dress and another dress that made my boobs look big (which is kind of nice because mine are kinda like half lemons). I showed them to my grandma and she insisted I buy them. I looked at the price tag on one of the dresses, $148 BUT it was reduced to
$12.99!
I almost died of happiness. I love those dresses too. I'm wearing the wrap one now. There are some left too, so if you are in the D.C. area go! Here's the address:
5345 Wisconsin Avenue Suite 200
Washington, DC 20015