And They Were All Yellow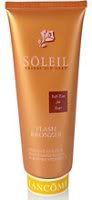 Not many fashionistas have canoed over 14 miles. Then again, not many people have gone to hippie private schools. If they had, they would know that matter how many layers of sunblock they put on they will get tan. Which is all fine and dandy until you take off your life jacket that your sadistic teachers made you wear and you realise that while most of you looks like your Colombian relatives your stomache looks like the Irish side of your family.
"Aiii!!!" You cry out and instantly show every one you know and they laugh and then move on to your purple friend (some people don't understand the dangers of skin cancer). When you go home what do you do? Bust out the
Lancome Flash Leg Bronzer
, of course. Instead of your legs you put it on your stomache because you have a pool party tomarrow and want to wear your bikini.
Yes, the leg tanner is the best because it gives you a light tan that isn't orange (although it's still a couple of shades lighter than your arms, but you can deal). Get it for $28.50.