When You Try Your Best
Okay. I lied. There is one part of the Spring lines I like. Libertine was fabulous. Not everything was beige and I
adore
the Mardi Gras-esque necklaces. Fun stuff.
I also love how they used happy spring colours, but they made sure the pieces didn't look like Easter outfits. How lovely. Okay. I'm wrong. This cardigan is a little eastery. But the rest is quite cool.
And, for the emo kids who don't like to wear bright colours (if your emo you are NOT allowed to eat the yellow twinkies by the way) there's always this fabulous navy and black dress.
It's like Morticia as a 50's housewife. Wait. Wasn't she a 50's houswife? I can't remember when that show was on. But it's quite a groovy dress.
Anyways, if that dress is a little too...poufy for you here's this dark ensemble (with one hellish dyejob):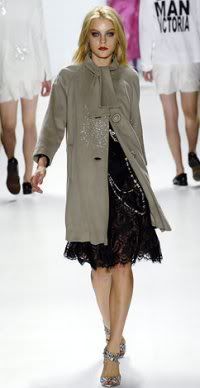 And, now, for my Mother because she wants hair likes this (by this I mean the old lady on the left) and loathes the fashion industry:
Aren't the tights beyond coold?
Thank you.