See What You Got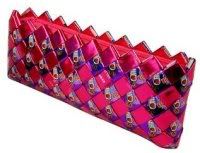 I've been raised to appreciate trees and love the mother earth and all that jazz. Not that I do it that much. Once you've been forced to pose HUGGING a tree for your school pictures from kindergarten to 8th grade they kind of lose their appeal. But, I must admit I do recycle. And I cut up the rings that 6 packs come in because I really do care about the dolphins.
Since I know you all care about saving the earth and whatnot (but in style because there's really no point if you look icky) you should check out
Ecoist
. They have snazzy bags like this one (it's called the everything/anything bag and is sold at around $28). They're made out candy wrappers, soda labels, and other foody things. They have the coolest designs and are waterproof. What more could you ask for? Plus they're surprisingly soft and fun to pet, my friend Benny gave me one last night and I used it for homecoming!
Check them out, you'll be amazed at how groovy these bags are. Besides, buying one is a good thing because you each bag you buy helps to plant a tree. It's a perfect excuse for yet another purse.