Rock it With Jason and the Argonauts
Prom was last saturday but I'll never forget the white dress (left) that my best friend
almost
wore instead of the pink halter that she ended up with (which was still gorgeous). Me and my other friend, Carly, forced her to buy it becuase it looked so damn good on her but she insisted on not wearing it because it looked like a toga.
Which is complete lunacy, but that's not my point.
After it was decided that yes, the dress would not be worn, Carly and I couldn't stop talking about it and noticed everything that had even the slightest ancient Greek/Roman influences. So, this is my Greek post.

Greek is next big thing. Well, we hope considering we've had embarrassingly long discussions about it. Take the Alexander McQueen Ready to Wear Spring Summer 06 collection (green dress on the right) for example. You can look at the complete collection at
Style.com
. Not only is it very 90's but many of the pieces fit right in with what I was talking about earlier.
And, of course, no one can forget how trendy gladiator sandals where a while ago. Well, the braided leather is back but now it's not nearly as annoying. Then again, everyone and their mom has sandals like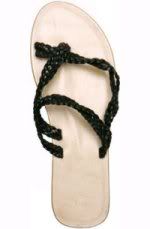 that now. And I'm not exagerating. These (left. DUH!) are from Urban Outfitters and are
$28
.
Of course, there is a huge amount of ancient Greek and Roman influenced clothes out there, it's just hard to find them on the internet. And by hard I mean I'm way to tired to think about doing that now.
Next time you think about dissmissing a dress because it looks like a toga think of me. AHEM.
Edit: THOSE ARE NOT GLADIATOR SANDLES. I know they are out of style (I would also like to point out that I have been chastised before for being to trendy and now people are pissed at me for showing something supposedly uncool). Have you seen gladiator sandles? These are a
different variation.
I personally hate gladiator sandles but the ones I showed are cute and summery. Perfect for walking to the beach. I obviously am not good at expressing myself sometimes.