Let's Ask Leith!
Sorry about the lack of posting, spring break started on thursday so I've been quite busy, naturally. Instead of me rambling about the bikini I want I'm answering the questions I've gotten form you guys. Sorry about some of them being a bit late!!
Here are some fashion opinion questions from one fashion junky to another;
-Fashion File or Fashion Television? (as much as I love Jeanne Baker I'm a Tim Blanks girl, that british accent reminds me of my imaginary fabulous gay grandfather)
-Fav fashion icon(s)? (Brigitte Bardot, KAte Moss & Eddie Sedwick)
-Fav designer? (don't have one, I could be rediculously cliché and say Marc Jacobs but I dig it anyway, and there's this duo of designers I saw on Fashion File and didn't write down the name which I'm kicking myself now)
Cheers
Avid Fashion fan
Katherine
Fashion file! I love watching it during the summer with salsa and tortilla chips. haha I don't think I really have a fashion icon. I'm influenced by nearly everyone, I think. My favorite designer is probably Vivienne Westwood but it changes quite a lot.
Me and my friend were trying on cloths at this really cool shop, and I had a ton of sleave-less tops that I wanted to try on. She came out in jeans and a normal T-shirt (she's kind of plain), and when she saw me she commented on my white bra straps showing. And so here's is my dilemma, I where a push up bra because I'm not ANYTHING like throws girls that can hold tops up by there perfect racks! So please, Please, Please help me!
Thanks, Insane artist

Well, you could always stop wearing a push up bra. Flat is where it's at! But I'm slightly biased (a-cups unite!). If you have a tank top on a little bra strap is all right, if you're hanging out with your friends. But if you're wearing a tube-top bra straps just don't look right. And I think that you're saying you can't wear a tub top with out a push up bra? Then don't wear them!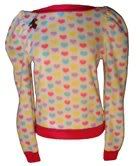 hi i was introduced to your website by ellegirl and i have a question. i really like this sweatshirt by born uniqorn but whenever i show it to anyone they call it ugly or "LOUD" i am afraid i will look stupid wearing it. Do you think that it is too loud?
Leah

I love this sweatshirt! If any one says that it's too loud then they're afraid of it! Believe me, you could do a lot louder. This is adorable.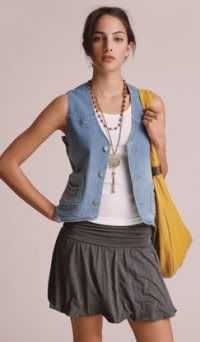 Hi...I was wondering if you could offer your advice....
How do you feel about bubble skirts? I like them, (except for the longer ones, those just look weird) and I was thinking about buying one (maybe in olive green or black). You probably discourage leggings underneath, am I right? I have a vest from Target I think would be cool with a skirt like this...
Give me your thoughts.
-Kelly
I have a skirt just like that! I normally wear it with a t-shirt or a tank top and a cardigan but I really like this combination. And yes, leggings would be a major trend overkill. Bubble skirts are great to have fun with. You can really go crazy with colors too, especially since this skirt is grey. I hope you enjoy it.
I just bought a pair of ballet flats. They're gold, real simple with a little string bow thing on the top. What else could I wear with that except jeans? Oh yeah, my toes kill. How to reduce the pain?
I got invited to a bat mitzvah (bar or bat, idk) that's in June and I've been bugging my friend on what to wear and if this is okay to wear. So.. what should and could I wear? I saw some pretty sundresses at Bloomingdale's but apparently that's too over the top. What is 'a nice shirt and pants'?
- Kellie
I love metallic ballet flats! They go with nearly everything. You could wear them with the bubble skirt above, or with a fancy dress. I have no idea how to reduce the pain in your toes. My feet have grown immune to pain.
And what to wear to the mitzvah? I went to a bunch when I was younger and I normally wore a jean skirt a nice top. Don't wear dressy pants! I hate it when people wear them to a party. Chances are you'll end up dancing and dancing in pants is no fun.
I know you probably get a lot of e-mails from fruity people, but I really need your help! How could I wear a green Lacoste turtleneck without looking like my gandmother? And you know you have that picture above you blog that says, "You Know You Love It"? Well, I made a picture to put there on my blog, but I don't know how to get it there and to be able to see it!!! Please reply if you can... !!!
-- Alexandra

It's hard to look like your grandma, even if you have one of her clothes on simply because you are not OLD. But, I would suggest wearing it with a black mini skirt or tight little capris. And the title? Check the
FAQ
please.
so.
basically I would LOVE it if you gave your complete oppinion of leggings....
should they be dead by now?
and how else to wear them (without looking...silly) besides a mini jean skirt? because I personally am sick of it.
please? :D
Okay, I'll admit it. I did the legging thing before it really hit off. But now that everyone wears them it really kind of annoys me and I do not think they should be worn outside of dance class.
Hey, I recently bought a pink tanktop that looks exactly like a corset! I love it to death but its a little revealing. Do u have any ideas on how to cover up without covering my tank top up too much? thanks.
Two words;
White blouse
.