How to Put a Picture as Your Header
1. Pick out your header. Upload it somewhere. I like
photobucket
but you can use whatever floats your boat.
2. Make sure you copy the image url. (e.g. http://img.photobucket.com/albums/v141/yesiminvisible/you%20know%20you%20love%20it/vegasleggings.jpg)
3. Log into your blogger account and go to the template section. The easiest way to have a nice looking header is to have your template be Minima.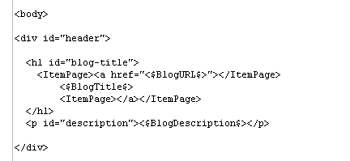 4. Go to edit the code, look for what's shown in the image to the left.
5. Change everthing after hl and before /hl to the
html code
for you image.
6. Press save. Now, if you want to edit anything else in your code (borders etc.) do it in the style section (it's all of the first mumbo jumbo in the edit template). It's confusing at first but you'll get the hang of it.