I Give the Best Advice When I Feel Like a Zombie
It's saturday night and I'm way to tired to do anything except sit on the computer. So what better time to answer your questions could there be? NO OTHER!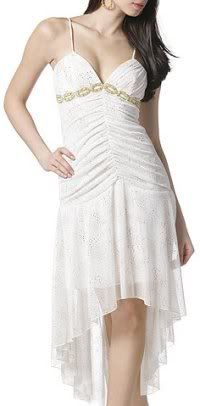 hi. i found a dress in cosmogirl magazine, but it's not on the website. i've
even gone as far as to call cosmogirl and xoxo (the people who made the dress).
but of course, they weren't any help. now first of all you have to understand
how badly i want this dress. it's perfect for me. i lost sleep over it for
pete's sake! so anyway, i personally believe that you have some mystical
superpower that lets you find anything fashion related online. i was wondering
if you could give it a shot and just try, for a few minutes, to find my dress.
cosmogirl calls it "pleated chiffon dress" and it's from xoxo. so if you even
try, you'll be my best friend forever. i swear. thanks : ]
from,
Rachel C.
I think I found it! Maybe. The XOXO website says it's polyester but you didn't describe it that much so I hope this is right. Maybe? Next time could you give a better description? Anyways, it's
$88
and is quite adorable. It's enough to make anyone look righteously hot.
hi i was wondering if you can give me some fashion advice. i got a pair of these
awsome white kapris (sry cant find picture) and i dunno what to wear with them.
can u give me some advise? do you think i could wear a brown blazer with them?
And also, what do you think of the whole leggings-under-jean-skirt-with-flats
thing?
Well, I've already answered the leggings thing a buttload of times. Please (and this goes to every one, seriously) check the
FAQ
before you ask a question. Also, it would be nice if you guys used spell check. But I'm kind of a spelling Nazi. Anyways, nearly everything goes with white. Okay, EVERYTHING goes with white. But, use your judgement, if you don't like how something looks with them then don't wear it. Might I suggest a striped halter top and some gold ballet flats though? It's very sweet and simple.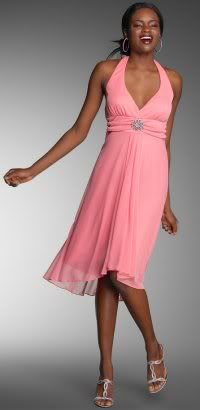 Hey, I'm going to my friend's quinceanera in September and I'm one of her damas (which is basically like a bridesmaid). We have to wear light pink dresses. Any suggestions?
Rachel
P.S. I love your blog!
I really dislike the color pink but I'll try to help you because I love quinceanera's and I'm quite depressed that I didn't have one myself.
This dress (left) from Erotokritos is gorgeous! Is the bottom red stripe all right? If it isn't tell whoever is in charge that they are a complete moron. I don't know where exactly you can get Erotokritos clothes (the
website
says they are available all over the world but you have to e-mail them to find out more and I'm trying to answer this question quickly). So, if you have trouble finding that dress you can always get this one (on the right) from Ruby Rox. It's a classic simple style that leads to less boob-slipage than the Erotokritos one. And it's far easier to find since you can get it at Nordstrom's for
$58
.
Okay, I know prom is ages away but when you live where I live time flies in a not having fun way, so I'm already looking. Actually, I don't know when you'r prom is, so I don't really know if it is in ages, but mine is in February. Probably different since I live almost half way 'round the world.. probably. So here's my problem: I go to a Catholic school (lame, yes) and we are not allowed to wear black (which sucks if you're me), short dresses (not really a problem for me), dresses with spaghetti straps, tube dresses (for lack of a better term cause that doesn't seem to sound right to me, or maybe it's just me), dresses that plunge down in the front, or are backless, and heels cannot be more than two inches. I cannot seem to find anything [not ugly] without breaking the rules! Please help me!
-Bea
Okay, your prom
is
ages away. I know it seems like it isn't but fashionwise, it is. I don't suggest buying a dress way before an event, the earliest should be one month away. Who's to say you won't find a dress that you really, really enjoy inbetween now and your prom? But, I will show you some nice dresses that fall into those guidelines because it's not that hard!
The dress on the left is from Anthropolgie and (although it kind of looks it) is not low cut at all! Plus, the patter is quite groovy and I doubt anyone else will be wearing a dress like it at all. It's all the great things about vintage dressed rolled into one. I don't know how big your prom budget is but it's
$148
. Be sure to check out my
prom post
for more!

Hey,
it's a rarity that i ever go to anyone for fashion advice. i normally wear whatever i want and don't care about trends or other people's opinions. but i have this problem. it's called: "oh, that's on sale! okay.... sold!" well, i'm really not THAT bad, but i do tend to buy things just because they're cheap and worry about what to wear them with later. usually this is not a problem, but a few months ago i bought a pair of old navy tights that are a turquoise blue (pretty much like this). i have worn them with a denim mini skirt and it looked kind of weird. teen vogue recently had a spread where the model was wearing a trench coat and a dress and a skirt with similar stockings, but i didn't think it would look all that great on me. do you have any suggestions?
thanks,
kerri
BLACK DRESS. But, if you want to wear them with an everyday outfit having them under a pair of jeans with holes in them is a nice way to bring bright colors into an otherwise boring outfit.