If only the Coach store in my mall actually had good bags...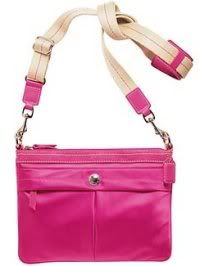 It's March and spring is almost here! That means buying new clothes (because you outgrew your old ones) and of course, new bags. This pink Coach bag is darling and perfect for school during the spring. At $128 tt's also pretty
inexpensive
(for a Coach bag). The strap is long and you can fit your ipod and other
essentials
in it (like your pink Hello Kitty hairbrush, your wallet, all the lipgloss you can fit, and don't forget the dryer sheets in case of static!).