Sporty Done Pretty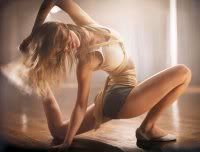 Stella McCartney may have taken a few seasons to persuade everybody to love her own collections, but her collaboration with Adidas has seen no such hesitation. With 95 per cent of the first collection, for spring/summer 2005, selling within 24 hours of arriving on the shelves of Bloomingdales and queues forming for more of the same in Japan, there are great expectations for the second. "Spring was amazingly well received," Stella told
WWD
. "Winter has been more of a challenge; it's limiting as there are less sports." Citing the project as one that "made perfect sense from day one" and that she "can't quite believe [hadn't] been done before", Stella has added trail running, Nordic walking and climbing to the portfolio that already covered running, gym and swimwear. "We addressed outdoor sports as we wanted to get women out of the gym and into the fresh air," she went on. "I want to encourage exercise for me, it's experiencing the natural side of it as well. I grew up riding, swimming outside, skiing and with long walks with dogs." Showcased at Stella's Bruton Street store today, the new collection also features vibrant shades of aqua and flamingo in addition to the dusty rose, grey, chocolate, eggplant, copper, silver and gold that went before. "There's no excuse for labels to be bashing out the same cheesy baby blues anymore," she adds.
From Vouge.co.uk
I just hope I can wear those while playing winter soccer (which, if you play a sport, is the best ever).
edit:
Yes, I know that the model looks like she belongs in Flashdance. Why do you think I chose that picture?