Just Stuck Inside the Gloom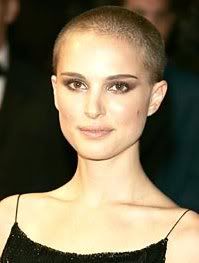 Natalie, darling, I love you because you have gorgeous brown hair and are the perfect deceased mother for Luke Skywalker BUT what? I know this is just for movie V is for Vendetta but you look a bit like my brother. With make up one (which really isn't a stretch with him). You look like a little Elf that I want to pick up, put in my pocket, and then use whenever I need the answer for science test (you went to Harvard, of course you know where the Juan de Fuca plate is). Maybe your hair is like mine and will grow back quickly?
I'm sure you'll look cute in a pixie cut but G.I. Jane just isn't the look for you. Unless you like the 12 year old boy cancer survivor look.