The Life of Luxury is for Me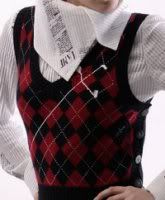 Soil texture is very important when it comes to understanding your soil and what it can do for you.

Just for having to write that my Mother should buy me this argyle sweater vest from L.A.M.B. Hell, at $117.00 it's cheaper than hiring some one to kill my science teacher (this is just a guess because I don't know how much a hitman costs right off the bat). But really, why the hell should I know how to analyze soil? So that I can become a gardener and not be able to afford this gorgeious sweater vest? I wouldn't even be able to wear this half the time with work and all (manual labor and cashmere don't mesh that well). Maybe if I'm really rich I'll save my money by testing my soil to see if I can grow roses or not? Oh yeah. I'm going to Columbia for college (if I can stand any more school) which is in New York. Lots of gardens there. And then, I'll have a fabulous job at a fashion magazine (hopefully Elle because The Wintournater is like a cockroach) IN A CITY (idealy New York because I love me some bad Chinese food). And this vesty thing will look great while I'm walking the streets to go to class. See, it's really an investment.