Primp My Shopping Cart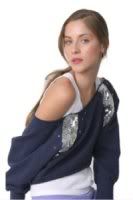 I know, sweatshirts are fugly and they 80's where a bad, bad decade for fashion. BUT don't you love this sweatshirt? More importantly though the brand,
Primp
, that makes it is cool (this was the only picture where the model didn't look Mischa Barton skinny). Thye have fun, Heatherette-ish designs that look really adorable. Yes, Courtney Peldon has worn their stuff and she has a section of
Go Fug Yourself
but lets just ignore that, please? Rachel Bilson wears it and she has some cute clothes.
Okay, they are fantastic clothes. Make fun of them all you want but you know you'll be rocking them at a beach party this summer.