ROAWR, It's Animal Time
I've gotten more e-mails asking for advice so here they are: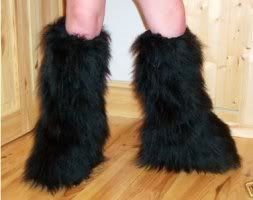 Hiya . . . I just want to start off by saying that I adore your blog and you have the best taste in fashion. Really. K, anyways, after that inspired bit of fangirl-ish babble . . . I recently bought these boots and I can't decide what to wear them with. I've been doing skinny jeans, and that's worked, but I need something else to use, and I just can't think of anything. If you can help, that would be fab.
Thanks!
-Madei
P.S. - You really do rock.
Thanks Madei for the compliments. BUT I really can't help you with those boots. They're a bit like Chewbacca's feet. And, unfortunately the Star Wars movies are all done with.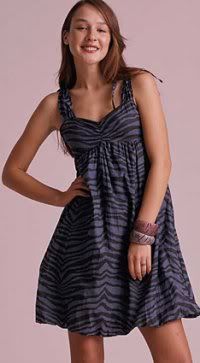 Oh no more zebra print from Delias.
Why do I like this dress so much?! Im really tempted to get it for something next year, but will it still be so cute? The bubble hem kind of annoys me, but the whole dress reminds me of a Marc Jacobs one that Lindsay Lohan wore on the cover of Teen Vogue last summer. Of course the Marc Jacobs one was blown-up rose print that only looked like zebra, and it was pink and black. Your thoughts?
Thanks so much!
Claire
I really like the pattern and it looks like a pretty comfortable dress but I wouldn't suggest buying it, unless you were buying it on sale. The bubble hem thing is going to pass really quickly (although I do have a really cute bubble mini that my best friend, Benny, bought me and I love it a lot). But it also looks more like a bathing suit cover up, it seems to be more suited for the beach. And don't ever buy a dress just because it reminds you of something a big name designer did, only buy something if you're really comfortable with it!