I Make Spanish and Accesories go Together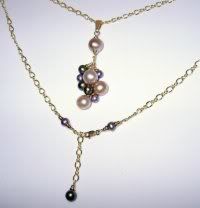 I spent the whole weekend studying for my Spanish exam. Okay, that's a lie. I saw Brokeback Mountain on Saturday (go see it) and I fell asleep watching Erin Brockovitch on Friday (which is really just sad since I had planned on going out). Anyways, I studied for the first time since 6th grade and the test ended up being the easiest Spanish test all year. What is wrong with that woman? She told me I had to teach myself a whole unit of vocab because she just forgot to teach it to us and then it ended up not being on the test. She's a lunatic.
Anyways. This necklace is quite cute isn't it? It's a nice take on pearls, I'm sick and tired of seeing the blah white pearl necklaces. It's called the Hope Charm necklace. And it gives me hope that absolutely evil/insane Spanish teacher will be commited. I'm completely serious. I get in trouble in her class for taking notes. Oh well, I don't have her next semester so it is all good. Buy
this
necklace from Carolyn Koslen. And check out her other jewelry because it's all really pretty and pearly. But not white and boring.