You Spin Me Right Round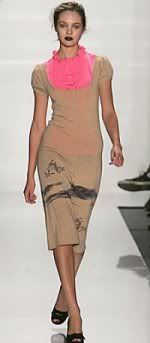 I just had an AIM conversation that went a little like this:
Carly: umm so i read your fashion blog...
Me: yes
Carly: and I get annoyed when you dont update it....
So, of course. I'm updating it.
First things first though. Yes. I was in ElleGirl. Thank you for visiting all you new readers. And, no, I really don't look like that picture. I made the mistake of sending ridiculous pictures my little brother took of me.
Anyways, on Friday my Dad drove me up to New York for Olympus Fashion Week avec my aunt (thank you, both of you!). Althought it was more of a fashion weekend since I
had
to go to school on Monday (pshaw). So, I got to see the
Alice Roi
show. It was AWESOME. The little punkish touches were great, not to mention the music. They played The Violent Femmes. And The Cure! It was like listening to my itunes.
The picture on the left is by far my favorite look from the show. Overall, the collection was very neutral (lots of tans, whites, and blacks) with splashes of hot pink thrown in. It was just too cool.
The tent itself was amazing. There was some guy with two-toned hot pink hair and a green and orange plaidish suit on. I tried to take his picture a couple of times but he kept on moving. And there was all sorts of free stuff. Like notebooks, and Atkins bars. And peppermint patties. If I was homeless but had awesome clothes I might hang out in the tent all day. But I don't really recomend that.
Oh yes, for those of you that found my myspace, please don't be offended if I don't add you back. I just use myspace to keep in touch with people I
know
but don't get to see that often.