Don't Stop Believing
One day I was shopping with a friend and she wanted to buy a pair of shorts and shorts just make me depressed because they never ever fit me properly (they're always too small in the rear and too big everywhere else) but next to them were some vests. So, for some reason, I bought a green plaid vest. But, I have nothing to wear underneath it. And I tried the whole nothing underneath it thing for about a minute in my room. By myself. It was bad. So I'm on the search for white blouses and here are some that I found.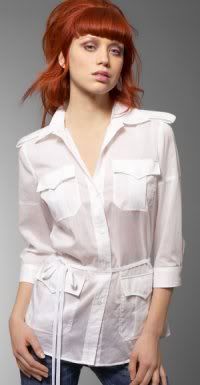 Okay, so it wouldn't look that great under a vest but I still think it's pretty ace. It's a little bit of the military stuff that was in for fall but would be better suited for a summer safari. Or just hanging out at the beach. Oooh, the description actually says jacket. I guess it could be a jacket. Over a bathing suit? Whatever, it's still a cool blouse. It's also
$165
by Theory.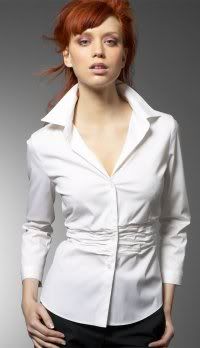 Another Theory blouse, this one is
$200
. I love the rouching crinkly-ness in the waist. Which is fabulous because I read an article saying that waislines are getting wider so anything that accentuates the waist is a-ok in my book. Yes. This one would look weird under my vesty thing too but it doesn't matter at this point.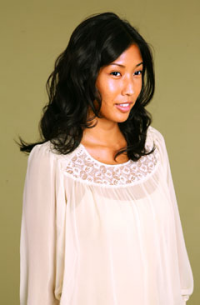 This is such a Mary-Kate Olsen shirt. But I love it anyways. Because I feel alseep watching Full House a couple of months ago and now I'm in love with the Olsen twins. By Free People, it's
$50
.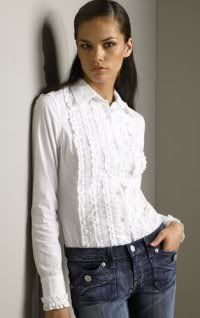 Tuxedos are in. They always have been, but now it's tres chic for a chick to wear tuxedo-esque things. Supposedly. You can take it over the edge, for example I would never wear this shirt with my tuxedo pants. But I do wear my tuxedo pants a lot with sweaters and other girly-rific things. But this blouse! I love this blouse. I want to wear this with my vest. Yes, I would look like a derranged waiter at some fake pub but it would be so much fun to wear! Besides, with out the vest it's quite cute. Thank you Rebecca & Drew. But you kinda suck for making it
$230
.
Woohoo, Theory has made a whopping 3 of the blouses that I've mentioned here. But I had to post this one, it's a classic short sleaved blouse. It's, simple and structured pluse there's lace trim on the sleaves.
$175
.