Dance, Dance!
Prom is, apparently, coming up. Sometime. Eventually. So me and my friend were internet-window shopping for prom dresses. Since I'll be crashing her prom because freshmen can't go to the one at my school.

Isn't this dress amazing? It's chic but still danceable and not too poofy like so many prom dresses, especially since this is just the first prom I'll be going to and not special or anything (I never really understood why prom was so special but let's move on).
Vivienne Westwood
is amazing.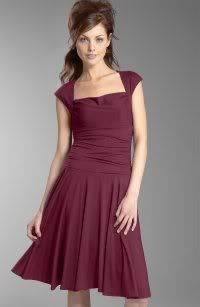 I think this dress is perfect, it's not too formal since it's so short but it's also classic and beautful. Plus you'll be able to wear it again. And it comes in much nicer colors. Like red, black, and chocolate. And it's
$48
from Nordstrom's, which it's pretty damn cool. And when you order a prom dress from Nordstrom's website you get a free clutch. Which is even cooler. Except, everyone will have it. So minus on the cool points.
If you want something a little bit more girly and alittle bit more promish then I'd say go for this one. Normally I hate pink and flowery designs but this is just an awesome dress. Plus you can still dance like a normal person and not have to deal with the insane puffiness of classic prom dresses. It's a Catherine Maladrino dress and it's
$545
from ShopBop.

This is just the perfect party dress. It's made me fall in love with
Erotokritos
even more. It kind of reminds me of some of Chloe from Project Runway's designs. But much better, the little things are what count.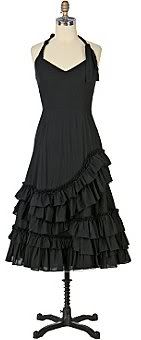 I have to have this dress one day. I've decided to wear it to senior or junior prom. It's called the Tango Show Dress and I think the name describes it perfectly. Although all the tango dresses I've seen a much more colorful. Whatever, it's gorgeous and I must own it. It's
$248
and from Anthropologie.