Drop it Like it's Hot
I've gotten a slew of e-mails asking for bathing suit advice so....here are a bunch of bathing suits. Chosen with Carly's advice (who's currently thinking of getting a website. Give us a yay or a nay on that matter por favor).
The 2 Pieces


Awww! This is such a cute bathingsuit. It's nice and happy and whatnot. And it's by Lacoste and you can buy it for
$125
from Urban Outfitters.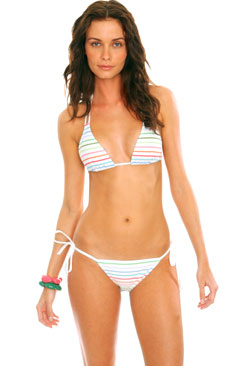 I love stripes! They're so much fun. And this is a fun bathing suit. It makes me want to eat sorbet. I dont' even like sorbet. The top is
$42
and the bottom is
$40
from Urban Outfitters. Again.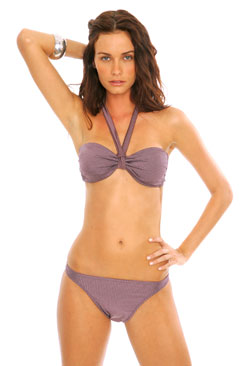 It's retro! It's from Urban Outfitters again! The brand that makes it is named Salinas which makes me think of Selena, the singer (I would do anything for Salenas!). It's just too amazing. It also has little polka dots that you can't see in this picture. It's basically just awesome. The top is
$55
and the bottom is
$55
also.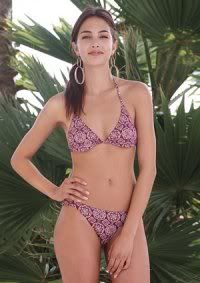 It's time to end this Urban Outfitters loving. Not that it's a bad thing. Okay. I'm just gonna stop. This bikini is from Delia's. It's basic. And Everyone will probably have it. But it's still nice.
$24.50
.
The One Pieces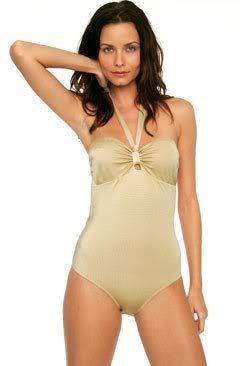 It's basically the one piece version of that retro 2 piece I mentioned. So, if you are terribly modest then get this. Because it's fly. It's also from Urban Outfitters and is
$122
.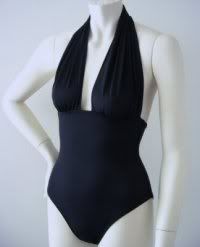 In case you haven't noticed, I have a thing for old style bathing suits. This one is just too great. I must own it. Although you have to handwash it. Whatever, it's still gorgeous. It's
$78
from Stars and Infinite Darkness.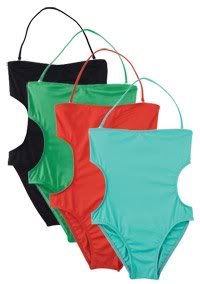 Cut out bathing suits are fun. The tan lines must be cool too. Maybe. If you're one of those people that like getting tan lines from your sandals. And it's only
$33.60
from Alloy (I know, the coolest store ever).
ALSO, please do not bug me to update in my comments. Telling me I suck will
not
give me less of a social life (which would free up my time to let me write in here whenever).