This is me Frustrated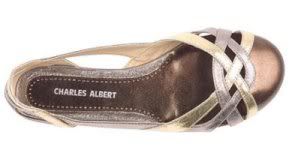 Despite my last post, I really do love flats (sarcasm. learn to love it. well, I was serious about the platforms being cool thing) . In fact today I wore bright yellow ballet flats. One of my favorite pair of shoes are
these
Steve Madden flats. Say what you will about Steve Madden, but those shoes rock.
Well, I was looking at myDelias catalogue and noticed one of the models wearing those shoes which made me freak out a bit. Until I noticed the shoes for sale. As in, they made knock-offs of them. WHY WOULD YOU WANT TO DO THAT? Steve Madden isn't exactly the most high fashion brand at all. And they don't even sell the damn originals at full price anymore (and from what I've noticed you can only get them from the steve madden website).
Don't buy those shoes from delias. Do not. Please. Just, don't.