Match Your Shoes With Your Jewelry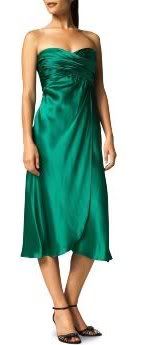 I was at the mall over the weekend to see Harry Potter and to eat (really, if you saw what was in my fridge that would be an event for you too). Harry Potter was fabulous. Draco turned into a ferret and went down some guy's pants. I think that's reason enough to see it.
Anyways, when I was having lunch at California Pizza Kitchen I looked out the window and saw this dress on the manequin. My friends and I let out a collective sigh (well...maybe we didn't but it sounds great doesn't). It was so pretty. And green. And shiny. Girls are a bit like magpies when it comes to shiny things. Well, when they're not gaudy.
So, the store that this dress was in was Banana Republic. Now, I normally don't go into that store because the word banana reminds me of my old Vietnemese French teacher who was absolutely insane and she said banana like banananananana. Which just messes me up when I try to spell it (thank God for Gwen Stefani and Hollaback Girl).
It's a really beautiful dress. And the Banananana Republic website says that it hits right below the knee. Now, I have some spacial problems but that doesn't look like right below the knee. Maybe the model has short legs? Anyways, the dress has "built-in-boning for support" which sounds great. But reminds me of those whalebone corsets. Which just frightens me. Well it's 100% silk which is tres cool and it's
$148
. I would suggest wearing it with gold or silver heels. But the black ones are nice.