You're a Needy Girl
Shoes! Parties! Winter!
It is, finally, my favorite time of the year. There are so many parties and presents, and with parties and presents come shoes that you
must
wear.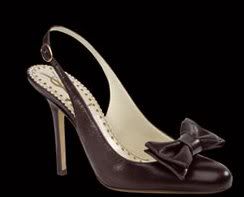 A classic leather slingback with a classic big bow. This is Christmas in shoe form. But not as annoying.
YSL
es mi amore.
Honestly, how adorably party shoeish can you get? It's crushed velvelt. It's metallic. It's got an ankle strap. Madonna even loves the brand. I love Madonna. This Bronx velve "court" shoe is
$76
.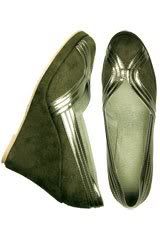 Woohoo!! It's not an obnoxious green but it's still a Christmasy green. And it's an oh-so-trendy-but-actually-comfortable-wedge. Which is cool. It's
$58
at
some place
called Urban Outfitters.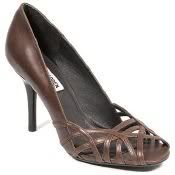 Did you know that Steve Madden went to jail? Yeah. Neither did I. He got out a couple of months ago (maybe?). But, I know it's a stretch, I like to think that the bars to his cell were the inspiration for this shoe. In fact the description says, "You'll be cage dancing in this hot leather pump 'til dawn." I'm sure he will.
$79.95
.