I Could Say a Cliche About Zebras But I Won't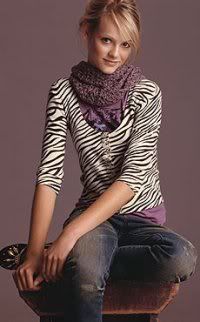 So, Happy new years everyone! I turned 15 on new years eve (yay!) and had loads of fun considering I was only home for one hour that day.
Anyways, on with the shopping! Early in December I got a Delias catalogue and saw this cardigan. Of course, I leapt off the couch and shoved the picture in my Mom's face and told her to get it for me. I guess that didn't really work since I never got it. But, luckily, I have birthday money and ordered it yesterday. It's perfect for now since it's got that trendy animal print but it can also be worn in the spring too because neutrals and whatnot will be oh so cool then. Don't I plan ahead.
Oh that's such a lie. I would have bought it no matter what. It's just too amazing and very Alexander McQueen. Of course, you have to ignore the purple t-shirt and garish "no really I made it in my knitting activity" scarf. ( Yes, I once took knitting and I've never finished a scarf. Ever. Which is really sad because I first learned how 3 years ago.)
All of my failures aside, it's on sale for
$34
at Delias.