It's What the Cool Librarians Wear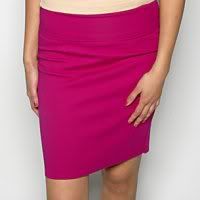 American Apparel! Pencil skirts! Yay.
No, seriously. I love American Apparel and I love pencil skirts. So, naturally I love American Apparel's pencil skirt. The fact that it's cotton and the countless wonderful and bright colors that it comes in makes it all the more better. Plus it can also be worn as a tube top and, even though tube tops are slightly evil, I'm kind of envious of girls who can wear them (and by kind of I mean not really). But don't wear tube tops. Ever since Sarah Jessica Parker wore them on Sex and the City they've become even scarier.
ANYWAYS, It's
$30
and I'm ordering it soon so you (might) have some first hand praise for it. Isn't that lovely? Yes it is.