Download Ruby by The Kaiser Chiefs
This summer I am working four jobs. I am a cashier at a local grocery store, ateaching assistant at an Elementary school, a cashier/seller at Borders Books Stores, and I babysit. None of these jobs require uniforms.
I need outfits I can wear that will look appropriate (especially the teaching assistant) at each job, as I work more than one per day.
-Rin
Jean capris are your new best friends, the pair on the left are
$231
at Shopbop. Probably out of your price-range, but you get the idea, well fitting and comfortable. Something like the
Ernest Sewn Harlen Ankle Length Jean
would work too, if you rolled them up at the bottom. Seriously, don't walk around looking like a tool. You can get less expensive capris, a lot like these at your mall.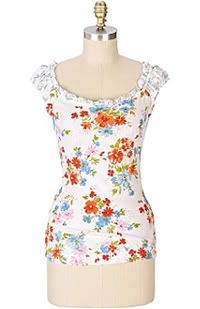 These are just a suggestion. I know I said that before, but some people don't actually read the entire post and I feel the need to repeat myself.
Please buy this shirt on the left. It's gorgeous, it'll look fab with jean capris. It's perfect. When you're teaching you can just wear it with a
nice cream jacket
but it's also perfect for hanging out.
$58
. Something like
this
will also work. Just buy comfortable, cotton tops that look nice but you can also layer with a light jacket for when you need to look a little bit more put together. If I actually bothere to get dressed in the summer this is what I would wear. Shoeswise? Black ballet flats and white open toed flats, hit up all the department stores near you.
In other news, the FAQ has been updated. Check it out. Enjoy it.