I'll Be There
So, the website should be fully running with a new layout, new updates, new whatever by next week. As in Sunday. As in April 15. Atleast that's my goal. In the mean time, here's a preview: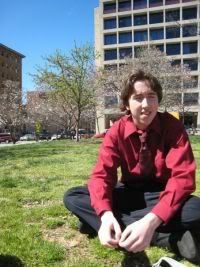 1. Giving The Finzz (left) a make-over. And he's actually down with it.
2. The best pair of aviators I have ever found in my entire life (as in, the first pair of aviators that actually look good on me).
3. My new found obsession with gold door knockers.
4.
Brown Babie$
love.
5. My criticisms of sundresses and why they should just go away and stop tempting me with their prettyness.
6. Sneakers. I like them. I used to not.
7. My latest musical obsessions (Lily Allen, who is playing at the 9:30 club today. Except it's Easter so I can't attend, Lupe Fiasco, The Grateful Dead (again), etc.)
8. Fashion questions answered. So e-mail me. Seriously. I have started giving advice to random people I don't know. I'm an addict, you have my junk.
9. The fascinating and beautiful rhythm of
Luxembourgish
.
10.
Prom
.
Tell your friends. Tell everyone who might of at one point read this site. I'm actually quite excited.