Because It's Raining and I'd Rather Think of Lovely Spring Days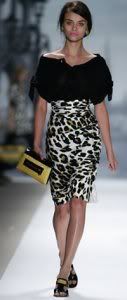 Remember the days when zebra print was hot and leopard print was just a little mini trend that only a select few were part of? Oh how I miss those days. Don't get my wrong, I love leopard prints more than is necessary but I don't need to walk by the shoe department of any given store and see a whole table full of leopard print shoes.
That look exactly the same and cost exactly the same.
Get your acts together department stores. Enough of this nonesense!
But I do kind of really, really love this entire outfit from the Nanette Lepore Spring/Summer show. I get the feeling that many a leopard print dress will be in attendence at next year's prom.
Note the bright accesories though, this is how leopard print should be worn. With flair and fun, I don't think anyone in their right mind can take leopard print seriously so don't even pretend. The first rule of fashion is to have fun with it, and you can really do that with a little leopard.
P.S. The hair at the Marc by Marc Jacobs show? Adorable. I can't wait until my hair is finally long again so I can do it.