BREATHE!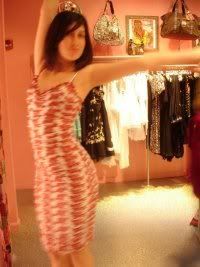 I was really hoping I wouldn't have to do this.
But, it appears I do. Especially since there was a big hoopla over my last post.
OH MY GOD I SAID THAT PEOPLE SHOULD EXERCISE. It was a joke. Yes, it was not that funny. Yes, it's hard to tell when some one is being sarcastic on the internet. But (and I had sincerely hoped that people had gotten used to me by now) I am sarcastic the majority of the time. It's my survival technique.
Besides, I'm a size 6 for pants and I can still fit into a size 2 dress (although a huge part of this is the fact that I am mucho small on top). Have you seen my rear or my hips? I don't believe so and if you have this could be a bit awkward. Unless I know you, of course.
Please, don't take offense at everything that I say. I am cruelest to those I love the most. Unless I really hate you, then I am just a full-frontal bitch.
Basically, do not over-react. Yes, I am full on drama queen but seriously. I don't go and cry because some one said something that I don't agree with online. Please take a reality check and calm down. Thank you.
P.S. tomorrow I will get back on a more regular posting schedule.
P.P.S. The first person who insults me with something other than "OH MY GOD YOU'RE SUCH A CONCEITED BITCH!" gets extra cool points. Honestly, there are so many other insults out there that describe me.
dress, Betsey Johnson