Oh My Gosh. Let's Listen to Plain White T's!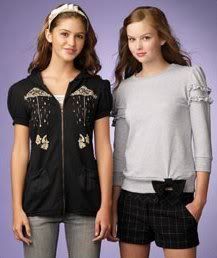 I was reading the Delias catalogue with my friend Liz before lit the other day. Once class started we, naturally, put it away. But our teacher requested we take it out. Picking it up, he started talking about Dante's Inferno and how the catalogue represented the blank banner the souls that neither heaven or hell wanted followed for eternity.
Which brings me to the point of this post.
Let's talk about Delia. She's a girl who exclusively buys her clothes from Delias (okay, let's be honest, she probably has a few from Forever 21) and you can tell. Chances are, if you saw an outfit in the catalogue she'd have worn it at least once.
The freshmen class at my school is plagued with these girls.
Really, I have nothing wrong with buying a few clothes from one store. But, my God, at least be somewhat original. They may look cute but, it's no fun to have everyone know where you bought all your clothes, nor is it fun to wear the same thing every damn day.