I Think A Big Part of This is Affected by my Menstrual Cycle
I'm a horrible person, I have abonded my little corner of the internet for educational pursuits (yay for readings about Lay Investiture in the medieval ages!) and work.
But, I'm back. For a short period of time atleast. I'm probably going to be spending the rest of the week working on an essay about Chaos and Order in medieval England and doing random art history readings. But, let's forget about that and talk about homecoming dresses.

This is such a Leith dress. Which is funny because me+strapless=nipplegate 2.0. Seriously, I am quite small in the chest area. I know it's not your classic homecoming dress but I like it. And I would wear it, if it weren't for the previously mentioned fiasco.
$425
from Adam + Eve. Which is insane. No one buys actually nice dresses for homecoming. Forget I ever mentioned it. And the model looks totally constipated.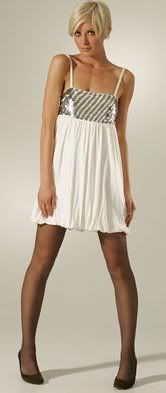 I don't care what anyone says, this is the perfect party dress. Except for the whole bubblehem. What is with all these dresses being almost perfect. I hate this. I'm just gonna stop talking about this dress.
$330
.

I really love this dress. I love the hair too. What is my obsession with hair lately? Anywho, the only thing wrong with this dress is that it only comes in size two. Which really isn't so sad. Get off your butt and go exercise. I have a bit of a fat ass and I can still fit into size 2 dresses. And, OH EM GEE! Eva Mendes wore it.
$295
.
About 20,000 people are gonna see this dress and say "THAT'S SO UGLY! It's a grandma dress!" and I'm going to sit here thinking to myself, "You are a moron." Maybe I'm in a bit of a bad mood? I do believe so. Whatever, with the right body type you could look unbelievably hot in this dress. APC pleated dress,
$237
.
I give up. I'm too tired and in too much of a bad mood to deal with this. I'm gonna either wear a black dress I bought at Urban Outfitters last year (I'm so up to date) or
this
will be my latest purchase.