Golden Smog Will Set Your Soul Free
I've gotten quite a few e-mails (3...shut up) asking for help finding school bags. Don't you people have bags? Have you just started school. ARE YOU 5 YEARS OLD? Now I'm going to have 20 people telling me I'm a bitch. Whatever. I understand your want because I love buying bags (you know the last time I got one was my birthday. How tragic is that?).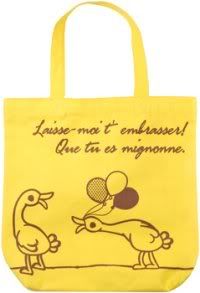 In my
last post
I featured a Fred Flare bag to carry stuff for school. This tote is as equally cool and from Fred Flare too. What a coincidence. It's kind of reminds me of those Andy Warhol tote bags from Urban Outfitters, but not as annoying (I know you bought one Carly, and I love it. But I'm sick of seeing them everywhere). Plus, this has French on it. You know, I took French for six years and I have no clue what that little duck is saying. I promise I'm not stupid, I just don't get along with conjugating verbs in a foreign language. Oooh, the website says that the duck is saying, "Let me kiss you sweetie." Too bad ducks don't have lips. There are some problems with this bag though. People are going to ask you what it says and it'll get hella dirty. Gross man. It's
$24
.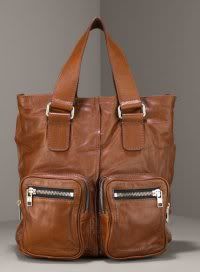 I'm not going to lie. I like Chloe bags. I wish I owned one. This bag (it's named Betty, that's so cute) makes me want to hop on the bag of a motorcycle while drinking a peppermint mocha. It's girly and tough. Perfect. It's 12 inches tall and 11 inches wide, making it perfect to hold school books and the front pockets look damn handy (ipod, cellphone, pens). If you ignore the fact that it is
$1,550
it's perfect for school. Hey, atleast it's less than my tuition. Okay, I'm just going to move on from this bag because the more I look at it the more I love it and now I'm super depressed.
I'm friends with the girl who makes these on Livejournal. She's pretty damn cool. As you can tell from the picture they're
$10
. Currently you can only buy her shirts/totes/pins (her label is called Handmade Heart) at shows and you can find out which ones she'll be at on her
Myspace
.