You Know, The World Would be so Uninteresting Without a Little Drama
Reader questions! Rejoice, throw a party!




I was wondering if you could help me out. I'm going to a "benefit/foundation thing" at a hotel downtown in mid/late September. So it will be cooler out. I need to find an appropriate/respectful dress (up to ~ $125) that is at least knee-length with substantial sleeves. One that is very pretty, of course, and not too drab, as I'm in high school. I've been looking, but it's kinda hard.

It can't be black tie/evening party or summery. More business-y. So I was thinking along the lines of Diane von Furstenberg (wrap dresses!), but obviously that is wayy out of the price range. Please help?

-Alexa

P.S. Cannot be jet black or have a halter. Thank youuuuuuu!

I thought this would be easy. I mean, there are millions of dresses out there. However, it wasn't. The dress on the left doesn't have substantial sleaves but it still is a great basic dress that can be worn a lot, pair it with a nice button-down sweater and you're set for the night. It's by Velvet Torch and you can buy it from Nordstrom's for
$48
. The shirtdress on the left is a little more casual, but if you wear it with some red pumps and gold jewelry you'll look outstanding. It's
$128
and you can buy it from Anthropologie.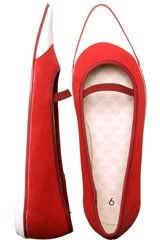 I have a serious problem in the shoe department. I like Chuck Taylors and I would buy them but it's like EVERYONE wears them here. I don't want to be a clone or wear clone shoes if you know what I mean. What alternative solutions are there? I saw a great pair of ballet shoes on the TOPSHOP website and at the top they look like Chucks but unfortunately you can't order them if you don't live in England. That's so mean! I sent TOPSHOP an e-mail but they only sent me another link where you can order stuff and it's supposed to be international. But again I can't order anything here. Do you think it would be a solution to wear fake Chucks? Because everyone else wears the "real" ones. But that might look cheap. Dunno.
-Franziska
The amazing thing about Chuck Taylors is that you can totally customize them, add song lyrics you like or paint on them. Don't buy the fake ones, you'll definitely look cheap and they don't last long. I once bought a fake pair just for when I wanted to chill out and they fell apart in 2 months. Besides, you won't stand out if you have the fake version of what everyone is wearing. Why don't you just buy regular ballet flats? There are so many different types of shoes out there why not try someting completely new? But, if you insist on the almost-chuck taylor look why not try these pointy toed mary-janes from Sugar. They're
$19.99
from Urban Outfitters.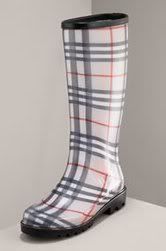 Hey Leith! I actually have a question for you. Im looking for a pair of cute rain boots, maybe its an oxy moron, but im going to a school w/ a humugo campus and living in a state where it rains alot. So, i need your help!
-Lyla
p.s, how do you feel about the "Leather Foldover boot" from Urban Outfitters? My friend HATES them but i think they're cute....what about you? Thanks!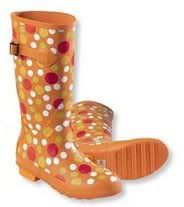 Welcome to my life. My school was built on a farm and whenever it rains it's mud city. I like the Burberry Novacheck rain boots, but seriously, I would never pay
$145
for a pair of rubber boots that I treck through the mud in. L.L. Bean has some cute rain boots, like the pair on the left. They're only
$49
and come in stripes too. I have a friend who goes to a school with a strict dress code, but the one thing that they allow you to go crazy on are rain boots. She bought a really groovy pair from Nordstrom's but she's currently out of town so I have no idea what brand it was. I will most definitely tell you guys when she gets back.
P.S. I love the Urban Outfitters boots.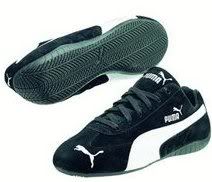 Alright, I actually hate sneakers but of course, I need new ones before school starts. Do you know any that looks cute and wearable? And while I'm on the topic of footwear, what is there to wear in the wintertime? I kind of have to walk like an 1/16 of a mile in the snow sometimes which sucks. Especially when your wearing the same damn kind of shoes everyday.
-Serena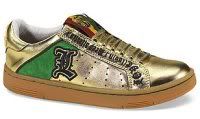 Say hello to your new best friend, Puma. I have a pair of white an purple ones that I always wear to go running. They're amazingly comfortable and they look good too. You can get the Speed Cat for
$75
. If you want something flashier though you must go with the gold L.A.M.B. Love sneakers. They're absolutely amazing. I tried them on and they were, honestly, incredibley comfortable. I was ready to run out of the store with them on. But I'm against shop lifting.
$149
.
so, i really like the idea of wearing black tights [not leggings], but i dont know what shoes to wear them with. i know boots would work but i'd prefer flats or something. any ideas?

-megan
Ballet flats! In bright colors too. Really, just buy
these
in every color. The red is actually much brighter in real life. If you see pretty flats that you like? Buy them and they'll look amazing with your tights.
hey,i have a question. is blue eyeshadow ALWAYS tacky? i mean, what if it's a pretty turquoise? well, whatever, i bought a Pop Beauty case of blue shadow from Sephora, and I'm damn well gonna wear it, too. you can sling your proverbial fashion arrows at me, but whatevs.
-emma
Blue eyeshadow, when taken to extremes, looks horrible. I live near Baltimore, I should know. If you feel a little uneasy just go to a make-up counter and ask one of the ladies for tips.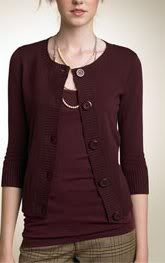 I'm going to a HS next year with a huge campus, where are the buildings are spread out. I need warm, but still cute clothes for winter (i live in the east coast) Long coats, scarves, etc.....HELP!
-Queen Zooey

I have the same problem at my school. Invest in a warm wool coat and lots of nice cashmere sweaters. Wearing tights under your jeans is a great way to keep warm too (plus if your jeans have holes in them it's fun to wear bright colors underneath). Cardigans like the one of the right are really useful too (
$36
). Most importantly, you're going to want to layer. You'll the hang of it after a while and pretty soon you'll find where the best radiators are so you can get warm inbetween classes.
I saw you in elle girl and I love your blogs! So I was inspired and decided to start my own. Any advice for getting started/publicizing my blog?
-Ilikeitloveit
Get a publicist. No, seriously, just keep on writing and doing you're thing. I never really did anything except sign up for one or two bloglistings and comment on websites I liked. Except, don't do the whole "LOOK AT MAAAH WEBSITE!!" thing. It's kind of obnoxious.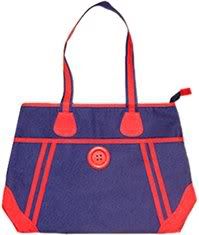 With all the fall fashion hitting stores lately it's crossed my mind that soon I'll need to buy a bag for school, always a daunting task for me. I recently found your blog & thought maybe you could help me find a tote in some color other than black or brown that's chic & stylish, yet still big enough to hold my books & junk?
-Chloe
Welcome to everyone in highschool's problem. I spent ages looking for one for myself and settled with a bag I found in the bag of my closet that my grandfather got for me when he went to England ages ago. It's big, plastic, and says Harrods all over it. The most important thing? It's big and plastic (hence waterproof). This bag on the left from Fred Flare is roomyish (
10.5"x15") and adorable. I could see Molly, the American Girl Doll, going to school with her saddle shoes carrying this bag. It's canvas, so it's sturdy and nice looking. Woohoo. $48.