Let There Be Shoes, Because I REALLY Am God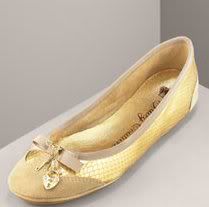 When I first saw these shoes I was shocked. They're Juicy Couture, there should be some velour on them. But there really isn't. It's all camel suede and leather. Juicy has really stepped it up, their ads are quite amazing too.
Anywho, these shoes would be perfect with a denim mini and white blouse. Simple but still youthful and fun. If I had these shoes I would have worn them today (it was my first day back at school). If this was Alice and Wonderland they would have a tag that said, "Buy me." or "Steal me." it's all relative (no I'm not saying go out and steal this. I'm tired and don't know where I was going with that). Make them your's for
$120
.