Sooner or Later, Gotta Cut You Down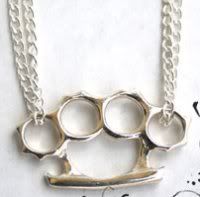 When I went to public school for one year there were a slew of fights (this was completely amazing to me since there were 0 fights at the school I had attended before) . There was controversy about one of them because supposedly one of the guys had brass knuckles and the cops had a tape of the fight. You know where I'm going with this. Well, the guy didn't have brass knuckles in the fight but he still scared me. I had to see him everyday after school selling cigarettes on the corner and staring at everyone like a pervert. That is just 1 reason why wiggers really annoy me.
Anyways, I still have an undying love for brass knuckles. Why? I do not know. But considering I won't be getting into any tussles in the near future I will just wear this necklace. Because I'm now a proud member of the work force. Sort of. I don't really have the job yet. Brass Knuckle charm necklace from Rebellious by Bijou Boutique,
$41
.