You Got Them Baby-Making Hips, Grrrl!
So, like I should make a post. Yeah?
It was really nice and warm, until today when I decided to wear a mini skirt and one of the 500000 tops I bought from
Urban
. I don't even shop there that much. I was freezing regardless of the top. My flimsly jacket was no match for the elements and my legs are quite possibly frostbitten. Anyways, let's get back to the warm weather. The other day I realised that the only shorts I own are incredibely skanky and/or have light blue paint on them. This is sad.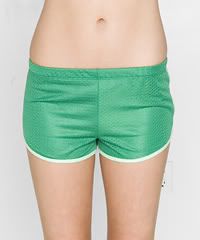 Oh wow. I love these, and they're incredibely skanky (well not so much this picture. just be glad I didn't pick the one with the girl sticking her butt out). I think that this explains my problem. Well, that and the fact that I actually own these shorts in plain old cotton (which for some reason they aren't selling anymore?). American Apparel running shorts in kelly green,
$18
.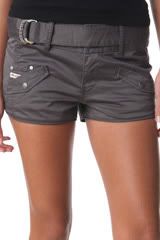 I apparently really like short shorts. It must be the amount of Barbarella I was exposed to as a young girl. But, these are more Tank Girl than Barbarella. Whatever, man. I think I owned shorts like this in the second grade. I still love them.
$90
.
Actually, I normally don't wear shorts. Generally when it's hot out I wear skirts or capri-like things. I have a large bottom, it's difficult to find shorts that don't make me look like a video dancer. I have a feeling these won't. Probably because of the significant distance between the hem and buttcheeks. Thank you Elevenses.
$68
.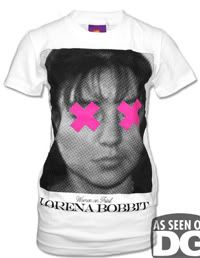 This, obviously, is not a pair of shorts. I don't care. I just found it on Digital Gravel and I will buy it, as soon as it's back in stock.
$37
(it's in Ladies Wear). Lorena Bobbit will never cease to be an amazing part of pop-culture. I try to work the phrase, "I'm gonna bobbit you, boy!" into daily conversations.