I Mean, I'm Kind of Just Waiting for the New M.I.A.
I'm terrible I know.
I'm writing here almost a week after I got home. There are many reasons though (and according to my father I'm the queen of excuses).
1. I was sick. Not sick enough to vomit or anything but sick nonetheless. Last night I went to see some local bands play and I had trouble speaking. My throat is in a sorry state.
2. Jet lag.
3. My mom broke her right wrist so now I have to help her drive/cook/function.
ANYWAYS, why do I keep on get junk e-mail about Viagra? And I've heard about 20 commercials for it on the radio today. Is some higher power trying to tell me something?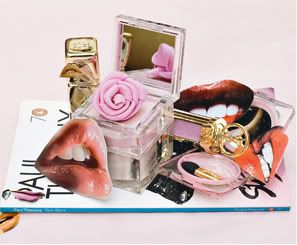 So, on to fashion. While in the airport waiting for my plane from Sydney to LAX I picked up a copy of
RUSSH
and thoroughly enjoyed it. If you ever see a copy, I suggest picking it up. But, you know, I'm one of those people that buys magazines for the photographs rather than the articles (which is strange considering how much I love to read). I absolutely adore their "Paint it Pastel" spread. They have a
Myspace
.
P.S. Changed the header and link colors. But that's kind of a no-brainer.
Labels: magazines