Why Don't You Lean on Me?
I actually have a dress problem i was wondering you could address, I've been buying a bunch of cute light weight summer dresses, however (especially the white ones), theyre always so sheer and even with nude underwear, you can still see the outline. So i was just wondering what you wear under your crochet dress or any sheer dress.
-Anonymous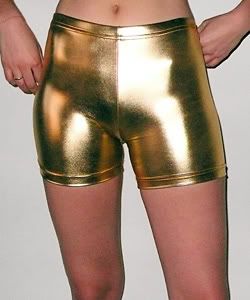 SLIPS! SLIPS! SLIPS! Except, properly fitting ones. I actually don't own one that fits. It's a skirt slip and is ridiculously long so I just wear it as a tube top under my dresses but it's too big so I have to strap it to my bra. Thankyou for reminding me that I need to buy a new one. I am the only 16 year old on the planet who seems to enjoy slips though. A lot of my friends just wear spandex under their clothes, my friend Mel is on a crew team and has just started wearing spandex under everything since she wears it at practice. I don't own any spandex, last time I wore a slightly see-through dress I wore my dance tights underneath. They had like 20000 holes in them but still, it worked. Anyways, I suggest these American Apparel gold lame shorts. My crew friend is buying these for practice, she goes to a rather posh all girls school which makes me want to laugh when I think of her wearing these to practice. Anyways, people are going to see that you are wearing spandex under the dress so why not make it flashy? The same crew friend was having a similar issue one day with a really cute yellow cotton J. Crew dress, she had just left the house wearing her normal underwear under the dress. So we spent half of our time looking for a nude thong (which I do not suggest wearing under a shear dress because it's kind of gross to see your butt crack but if you are in a bind then okay) when the lady at the boutique we were in said, "Oh, don't worry about it, just get some nude regular underwear. No one really cares."
And, for the most part, people don't really care that much if you can see a little outline of panty. Unless you are having Easter dinner at the Army Navy Club with your grandparents, just roll with it. Or maybe not? Either way, it's a good idea to invest in a good slip (try Nordstrom's) and a pair of spandex. Lame shorts,
$28
.