Sing the Love of Danger!

I'm going to an off

Broadway

show in NYC this summer, and I want to find a dress to wear to it. Not too fancy, but something chic and evening-

ish

. Maybe black. I was wondering if you could suggest anything, and nothing horribly expensive?

-Maddie
Oh the theater! How I love it (I'm in a play currently, we're doing a little
Neo

-Futurists
kind of
dealy
tomorrow
, it's exciting). Anyways, on to dresses. Well, you should probably go to Forever 21 if you want some inexpensive and simple. Or inexpensive and slutty. Two types of clothing every girl should understand the need for. However, I love looking at dresses so here we go.
This dress (top right) is straight up hot. It's black, it's tight, and oh thank you American Apparel for letting me see her nipples. Please wear a bra if you wear this dress. A nice one, a nude colored one (funny story, today I realised that I am the exact same color as my nude colored bra. that, my friends, is talent).
$32
.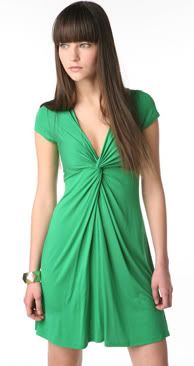 When I saw this dress I thought to myself, "That is so legit I can hardly control myself." I overuse of the word legit is starting to trouble me. But, really, this is such a perfect dress. It's devilishly simple but the knot sends to another, more interesting level. Just wear this with black heels and a large bangle (like in the picture) and you're set. Really, I love you Urban Outfitters. And I'm actually going to by this dress, unlike the majority of the things I put on here. Oh and they have this in more evening appropriate colors, I'm just going through a green thing.
$48
. P.S. I am totally in love with that model's hair.
I love shapes like this on dresses. I mean, my butt turns them into porn but still they're quite lovely. So if you're skinny then way to go and get this. I love the print and everything about this dress. Of course, it's out of your price range (unless $400 is not a lot for a dress) but
Urban Outfitters
has loads of dresses along the same lines.
$460
.